Cabaret
Friedrichstadt Palast in Berlin and Wintergarten Berlin is the two most famous cabarets in Germany. You must see one of their fantastic shows while you are in Berlin - with or without dinner. Tickets for Friedrichstadt Palast and Wintergarten Berlin here!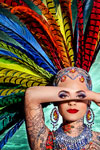 THE ONE at Friedrichstadt-Palast
Experience THE ONE Grand Show at Friedrichstadt-Palast. The show is a dreamlike journey through time in search of the person that means everything to us - THE ONE. Enjoy the pure glamour with costumes by Jean Paul Gaultier. This amazing show sells out quickly. Suitable for international guests!