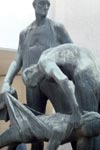 Sachsenhausen Walking Tour
Price from £ 14
Join our skilled guide for a tour to Sachsenhausen Concentration Camp outside Berlin. This is a tour you will never forget! Learn about the concentration camp and its prisoners both under and after WWII.

Highlights:
- Visit Sachenhausen Concentration Camp outside of Berlin
- Learn about the horror and deaths
- Uncover the realities of life and death in the camp

Visit Sachenhausen Concentration Camp
Visit the infamous concentration camp where more than 200,000 people were imprisoned by the Nazis and some 50,000 were brutally murdered.

Sachsenhausen was initially used to imprison political opponents. Later the camp was used as a training ground for the Holocaust once certain groups had been defined as racially or biologically inferior.
Your knowledgeable guide will uncover the realities of life and death in the camp: people fell victim to starvation, disease, forced labor, and systematic extermination.
You'll also hear about life and death in Special Camp No. 7/1, as Sachsenhausen was to become known under the Soviets. Until its closure in 1950, a further 60,000 men were held captive here, mostly former Nazi functionaries, German POWs, and Soviet deserters. Some 12,000 inmates died of hunger, cold and disease under the Soviets.
How do I get my tickets?
Shortly after your booking is complete your e-ticket will be sent directly to your email, just print it out and bring it on your tour.
Where does the tour start?

The tour starts i
n front of the restaurant
Weihenstephaner
opposite
Hackescher Markt
S-Station
. Please be there 10 minutes before the tour starts.
Where does the tour end?

The Sachsenhausen Walking Tour ends at
Berlin Hauptbahnhof (the main station).
How long does the tour last?
The tour lasts 6 hours.
How do we get around on the tour?
The tour includes a train ride, so please bring an ABC public transport ticket or buy one from your guide (An ABC-day pass costs €7.60).
What languages is the tour available in?
The tour is operated in English only.
What happens if it rains?

The tour runs in rain or shine, so please wear clothes and shoes according to weather.
Can I buy food and drink at the Sachsenhausen Memorial?
As there are limited possibilities to buy food and drinks inside Sachsenhausen Memorial, we advise you bring some with you.
Are there children's tickets?
Children under age 12 are free when accompanied by a paying adult. Youth tickets are available for people under 26 years old.
Sachsenhausen Walking Tour Info
Sachsenhausen Walking Tour
Meet your guide outside the restaurant Weihenstephaner opposite Hackescher Markt S-Bahn station.
Neue Promenade 5
10178 Berlin
Info
Sachsenhausen Walking Tour
The tour departs daily at 10 AM.
Directions
Directions
The closest train station is Hackescher Markt.



View map