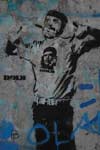 Raw Bike Tour - Berlin Exposed
Price from £ 28
Our Raw Bike Tour: Berlin Exposed is the perfect way to see the raw and real Berlin from street art to high-end real estate, from Tempelhof Airport to No-man's land! Book Tickets to Berlin Raw Bike Tour here!

On this special Berlin Bike Sightseeing Tour for 4½ hour, we will discuss and see raw Berlin areas like some Post-Cold War areas and The former Tempelhof Airport and now reclaimed no-man's-land and city park. We will bike deep into Kreuzberg to focus on Germany's historical guest worker programs and how this impact Berlin as a "Multi-Kult i" city. Finally you will see some of berlins famous squats and see how this phenomenon has change Berlin and how squats is changing itself!

We will stop for lunch at a suitable place along the route. Lunch and drinks for lunch is NOT incl. in the ticket price!

As Berlin is a very big city and also very flat, Berlin is perfect for sightseeing on a bike. So join our Raw Bike Tour: Berlin Exposed and see Berlin from the best way – on a bike!

IMPORTANT INFORMATIONS:
- All tours are in English
- Duration is approx. 4½ hour
- Opening hours: Apr. to Oct.: Wed., Fri. & Sun. at 10:30AM -Food and drink at the lunch break is not incl. in the price
- The tour operates rain or shine, so please wear clothes according to the weather. You can rent rain ponchos available from the guide for €1 each!
- Children must be able to bike their own bike to participate on this tour!
- Raw Bike Tour: Berlin Exposed starts and ends at the TV Tower on Alexanderplatz in Berlin.
Raw Bike Tour - Berlin Exposed Info
Raw Bike Tour - Berlin Exposed
Berlin Fat Tire Bike Tours,
TV Tower, Alexanderplatz
10178 Berlin
Info
Raw Bike Tour - Berlin Exposed
Apr. to Oct.: Tue., Fri. & Sun. at 10:30AM
Directions
Directions
S-bahn / U-bahn Alexanderplatz Station



View map