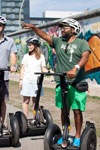 Berlin Wall Segway Tour
Price from £ 66
Explore Berlin's fascinating history on this popular Berlin Wall Segway Tour!

Highlights:
- Ride a segway through Berlin
- Explore the remains of the Berlin Wall
- See the East Side Gallery

Explore the Berlin Wall on a Segway
Our Berlin Wall Segway Tour explores not just the physical remains of this former division but also sheds light on the forces that resulted in the building of the Wall, what life was like in its shadow, and the events that led to its fall in 1989.

Our Berlin Wall Segway Tour heads east to see a completely different set of noteworthy landmarks, including spending time tracing the path of the former Wall.

Your guide will detail life in the former East, discuss escape attempts, and explain the political impact this former division still has in Berlin today.

You will also learn how Berlin's contemporary landscape is heavily influenced by the transformation of former no man's lands into new opportunities for some and struggles for others.

How do I get my tickets?
Shortly after your booking is complete your e-ticket will be sent directly to your email, just print it out and bring it with you on your tour.

Where does the tour start?
The tour starts at the City Segway Tours office at Alexanderplatz. Please be there 15 minutes before your tour starts.

How long is the tour?
The tour lasts approx. 3 hours.

Do I need a drivers license for this tour?
You must have a valid driver's license and have that license with you on tour.

Is there an age limit?
Yes, participants must be at least 15 years old to participate in this tour.

Is there a weight restriction?
You must weigh between 100 lbs (45 kg) and 255 lbs (117 kg).

Can I ride a segway if I'm pregnant?
No, if you are pregnant you are not allowed to ride a segway.

Important information:
- We have a strict policy against alcohol consumption and Segway operation. Alcohol is forbidden on all Segway tours and any client suspected of drinking before or during a Segway tour will immediately forfeit their tour and no refund will be given.
Berlin Wall Segway Tour Info
Berlin Wall Segway Tour
The tour starts at the City Segway Tours office at Alexanderplatz:
Panoramastraße 1a
10178 Berlin
Info
Berlin Wall Segway Tour
The tour departs daily at 10 AM & 2 PM.
Directions
Directions
The closest station is Alexanderplatz.



View map