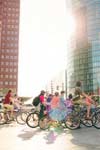 Berlin City Bike Tour
Price from £ 28
Day City Tour is a great way to learn about this great city in one tour! Get the full orientation of Berlin in the past and today – book your tickets for our All in One Berlin City Bike Tour here!

In about 4,5 hours we only cover around 6 miles (10 km) and stop every few hundred meters to take in the Berlin sights. This tour is not hard and is applicable for all ages and all fitness levels, and is a great way to see all of Berlin!

This Tour incl. the following Berlin Highlights, which will be explained by our guide and discussed by all in the group: The Berlin Wall , The Third Reich's Berlin , Prussian Berlin , Brandenburger Tor , Marienkirchen , Marx & Engles Platz , Hitler's Bunker , Potsdamer Platz , The 'Deathstrip' that divided East and West Berlin, Checkpoint Charlie , Memorial to the Murdered Jews of Europe , Reichstag and much, much more!

We will stop for lunch at a Beer Garden in Tiergarten Park. Lunch and drinks for lunch is NOT incl. in the ticket price!

As Berlin is a very big city and also very flat, Berlin is perfect for sightseeing on a bike. So join our Day City Tour and see Berlin from the best way – on a bike!

IMPORTANT INFORMATIONS:
- All tours are in English
- Duration is approx. 4½ hour
- Opening hours: March 1 to April 30: Daily at 11:00am. May 1 to September 30: Daily at 11:00am and 4:00pm. October 1 to November 30: Daily at 11:00am. December 1 to February 28: Wed. & Sat at 11:00AM
- Food and drink at the lunch break is not incl. in the price
- The tour operates rain or shine, so please wear clothes according to the weather. You can rent rain ponchos available from the guide for €1 each!
- Children must be able to bike their own bike to participate on this tour!
- Day City Tour starts and ends at the TV Tower on Alexanderplatz in Berlin.
Berlin City Bike Tour Info
Berlin City Bike Tour
Berlin Fat Tire Bike Tours,
TV Tower, Alexanderplatz
10178 Berlin
Info
Berlin City Bike Tour
Various daily departures all year round!
Directions
Directions
S-bahn / U-bahn Alexanderplatz Station



View map