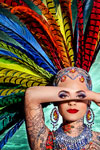 THE ONE at Friedrichstadt-Palast
Price from £ 40
THE ONE Grand Show is a dreamlike journey through time in search of the person that means everything to us - THE ONE.

Highlights:
- Experience THE ONE Grand Show
- See the most lavish show in all of Europe
- Enjoy over 100 artists
- See the costumes by Jean Paul Gautier
- Admire the world's biggest theatre stage
- Suitable for international guests.

Experience THE ONE Grand Show
Unlike musicals, revue shows do not have a common thread. It is a collage of glamorous show images with a common theme – here, the visions from a young man's dreams.
The dimensions are vast: more than 100 artists on the world's biggest theatre stage, a production budget of eleven million euros, the most lavish show in Europe. One technical highlight of the new Grand Show is the stage floor, under which is a vast body of fluorescent water.
The New York Times recommends the Palast as "must-see" during every visit to Berlin. Lonely Planet is impressed with the "mind-boggling special effects" and "stunning productions". The Sunday Times dubs the Palast "Las Vegas in Berlin". On the major review portals, up to 96 percent of guests recommend our show.

How do I get my tickets?
Shortly after your booking is complete your e-ticket will be sent directly to your email, just print it out and bring it with you to Friedrichstadt-Palast.
Where is the show?
The tour plays at Friedrichstadt-Palast. Please be there 30 minutes in advance.

How long does the show last?
The tour lasts approx. 2 hours and 15 minutes, including a 30-minute interval.

What seats should I choose?
You can see a seating chart of Friedrichstadt-Palast here.
What are the age recommendations?
The recommended minimum age for the Grand Show is 10 years. Children under the age of 6 will not be admitted.

Is the show suitable for people who don't speak German?
Absolutely. The show is also suitable for international guests, who do not speak German.
Are there children's tickets?
Yes, children's tickets are available for children between age 6-14. Children under age 6 are not permitted to the show.
THE ONE at Friedrichstadt-Palast Info
THE ONE at Friedrichstadt-Palast
The show plays at:
Friedrichstadt-Palast,
Friedrichstrasse 107,
10117 Berlin

Info
THE ONE at Friedrichstadt-Palast
The show plays Tuesday, Thursday, Friday, Saturday and Sunday at 3:30 PM & 7:30 PM.
Directions
Directions
The closets U-bahn station is Oranienburger Tor.



View map