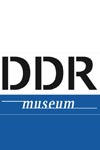 DDR Museum Berlin
Price from £ 10
The DDR Museum in Berlin is not a big museum, but is one of Berlin's top tourist attractions, and a must see. Learn all about the history of DDR and see a lot of DDR memorabilia's.

Experience history in a vivid, interactive and playful way: The DDR Museum offers you a hands-on experience of the everyday life of a state long gone, the life in socialism. Visitors are welcome to broaden their knowledge in different thematic areas, to reconsider existing clichés and to have a hands-on experience of history. Exhibits are there to be handled - few are kept in glass cabinets. Everything waits to be touched and experienced: Open the drawers and closets, rummage through them and discover!

There is a lot to discover in the DDR Museum: take a seat in the Trabi and rev the engine, watch TV in the authentic DDR living room, rummage through the drawers of the Karat wall unit. There are documentaries for the visitors to watch in original DDR movie chairs and it is possible to replay the football game "DDR vs. FRG" by oneself or to dance the Lipsi. All this is peppered with the most important information about every topic.

Under the watchful eyes of Marx, Engels and Lenin, the Socialist Unity Party of Germany provides the central focus of the exhibition, around which are grouped a number of themes such as the state, economy, the NPA, brother states, ideology, opposition and the Stasi. The interactive elements provide the central information regarding every topic.

Important Information:
- Exhibition in German and English and other languages as well.
- Child prices are for children from 6 to 15 years old. Children under 5 years old are free.
- DDR Museum is open Mon. - Sun. from 10.00AM to 08.00PM and Sat.: from 10.00AM to 10.00PM.
- We recommend that you allow a minimum of 1h30 for the visit and time your arrival in order to allow enough time to enjoy the visit fully.
- The DDR Museum is located at Karl-Liebknecht Strass 1, 10178 Berlin.
- You can choose three types of tickets: adult, child and skip the line.
- Skip the line tickets are valid for 12 months. Standard entrance tickets are only valid for the chosen date.
DDR Museum Berlin Info
DDR Museum Berlin
DDR Museum,
Karl-Liebknecht-Str. 1,
10178 Berlin,
Germany.
Info
DDR Museum Berlin
Monday - Sunday: 10am - 8pm.
Saturday: 10am - 10pm.
Directions
Directions
S-Bahn Hackescher Markt Station or S/U-Bahn Alexander Platz Station.



View map